Built-in bearings
Built-in bearing seals
Built-in bearings are fitted with a sliding seal on both sides. This is a pressed steel plate on which a rubber lip seal has been vulcanized and in which the rubber lip runs over the cylindrical surface of the inner ring. Additional sheet steel rings are fitted on the outside of the inner ring. These are the pendulum discs. This combination gives you a double-acting seal and thus excellent protection against dirt, corrosion and damage.
Speeds of built-in bearings
The maximum permissible speeds of the standard built-in bearings depend, among other things, on the size of the bearing bore, the heat development caused by the friction of the two rubber lip seals on the inner ring, and this in combination with any heat from outside that can affect the temperature of the bearing. can significantly increase.
In addition, the degree of grease filling and the way in which the bearing is attached to the shaft also play a role. When demanding applications or harsh conditions occur, the maximum speed should be lower. In general, the values from the table below can be used: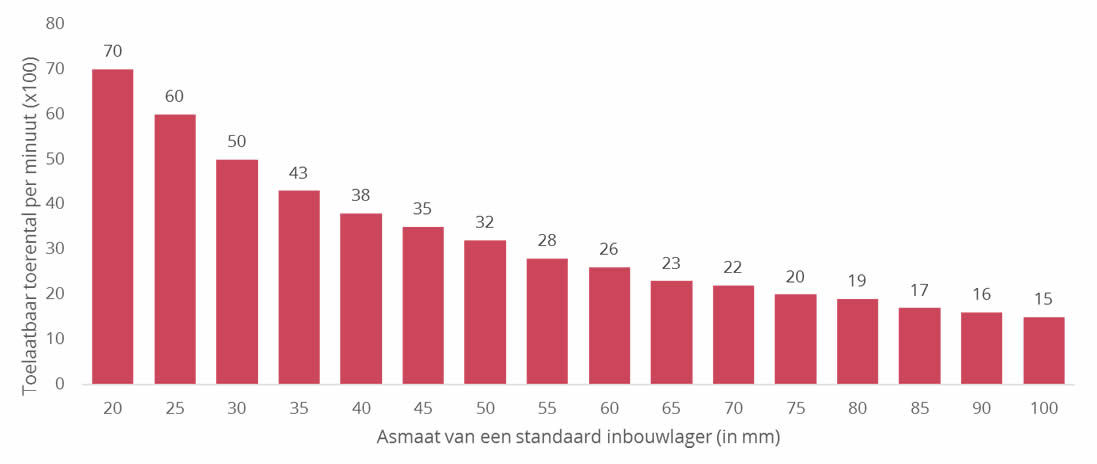 Lubrication of built-in bearings
As standard, all built-in bearings are filled with the correct amount of lithium soap grease and are suitable for temperatures between -20°C and a maximum of +100°C. At normal speeds and operating conditions, relubrication is not necessary. However, when the bearings work in dirty or damp conditions, it is recommended to regrease regularly. In cases where re-lubrication is necessary, the grease nipple supplied with the bearing block is mounted. The grease groove of the bearing must be in line with the position of the grease nipple. The regreasing periods should always be geared to the respective operating conditions.
Below are some guidelines for different circumstances.


Any conventional grease gun can be used for regreasing. Normally about 30% of the free space in the bearing is filled with grease. However, this can no longer be checked during regreasing. Therefore, excessive grease pressure must not be used, otherwise the bearing seals may be damaged. Regreasing is best done during operation. As a result, a good distribution of the fat takes place immediately.