Added to your shopping cart
82-4602
Rubber wheel/air 260x85mm with 25mm hole (R-country profiled-PP/RU)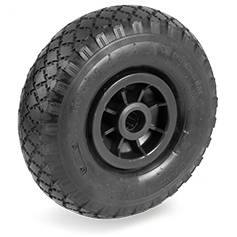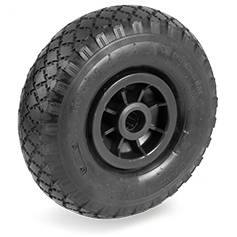 In stock
Our advantages
Secure ordering and payment
Product description
The industrial wheels from the 82-series can be used for light to medium loads and are suitable for wheelbarrows, wagons, etc.
These pneumatic tires are available in 2 types. The 82AF series is equipped with an anti-puncture tire that makes these tires less sensitive to sharp objects. These wheels are available in both country and ribbed profiles.
Can be used both indoors and outdoors on almost any surface in both dry and wet environments at temperatures between -20°C and +60°C.
Not applicable in an environment with organic acids, chlorine compounds, mineral oils and greases.
Max 2 bar.
The wheel contains a roller bearing and is suitable for an axle size of 25mm.
Wheel diameter: 260mm
Hub length: 74mm

View all details and the full Tellure Rôta range in the catalogue.
Specifications
Brand
Material
Rubber wheel with a polypropylene core
Secure ordering and payment