Added to your shopping cart
71-5506
Swivel castor rubber 200x50mm with front brake (K-PP/TGRU-NL/BO)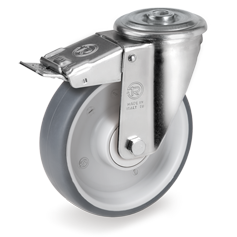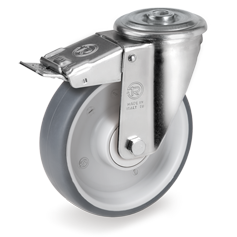 In stock
Our advantages
Secure ordering and payment
Product description
The industrial wheels from the 71-series are made of thermoplastic non-marking rubber. They are suitable for light transport on a relatively flat surface such as tiles, wood, carpet, etc.
Suitable for use in a dry or non-permanently humid environment at temperatures between -20°C and +70°C.
Not suitable for use on rough floors, unpaved surfaces, with residues on the floor and with organic solvents, chlorine compounds, mineral oils and greases.

View all details and the full Tellure Rôta range in the catalogue.
Specifications
Brand
Material
Wheel made of thermoplastic rubber with a polypropylene core
Secure ordering and payment